Bumper stickers are a great way to personalize your car, and let's face it – when you get stuck in traffic, a well-done bumper sticker really stands out. Many companies allow you to design your own labels but you can do it yourself at home.
Do you have a great sticker design for your car? You may then be looking for a quality bumper sticker that can withstand natural elements and potential damage to your design. Because there is nothing worse than a shield label that fades or disappears with a little rain. Even if you do not have a complete design in mind, but only have a rough idea of it, it is no problem. Our team of designers at Printitgo label stickers can take this idea and make it a reality with an original design that suits your car!
We use White Vinyl for bumper stickers, which is an anti-tear material, suitable for your car because it can withstand contact with oil, high or low temperatures and even humidity.
So, whether you are new to the business or want to use bumper stickers as a way to promote the word, or just want to blow up your car with something creative and good, our bumper stickers are a great choice. Just send us your design or contact us to talk about your idea, and we'll help you bring it all to life!
How to design your own bumper sticker
If you are to design your own bumper sticker at home here are some advice to help;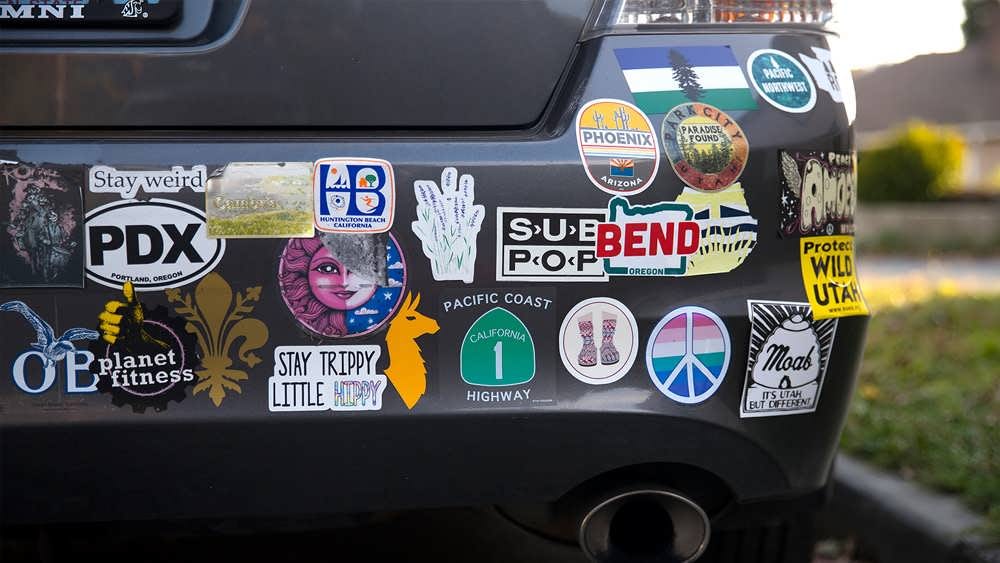 Choose a template
You should always start your bumper sticker designs with a template. If you want a completely custom design, download a free bumper sticker design template from the web. The patterns are available in the right size, color mode and resolution, it also contains useful guides so that you can position your artwork in the shortest time and correctly.
Optimize your bumper sticker design
Depending on your graphic design or editing software, you can use filters, lines, borders, colors, blurs, opacity, contrast, patterns and many other tools to reshape your bumper stickers. Add different fills and gradients to your block letters to see if they look better. A separator line or pattern may be needed to separate your bumper label design from the rest.
Tip: keep it simple. Remember that most people see your bumper sticker very quickly due to the speed of your car. That's why large, simple text and images work best. Use clip art, ghosts, plain photos, and bold, plain, bold text to help identify your message.
Print your bumper sticker design
Lastly, you need to print your bumper sticker designs so that you can distribute them to the masses or easily place them on your vehicle. Find an online bumper sticker printing company that offers premium bumper sticker paper that is weather-resistant, such as vinyl or polyester sticker paper with a UV coating. We can offer you the best qualities at Printitgo.
Always ask for a hard copy so that you can have the full copy in hand before confirming the entire print run to check for typos, errors, colors and designs, or any other errors.